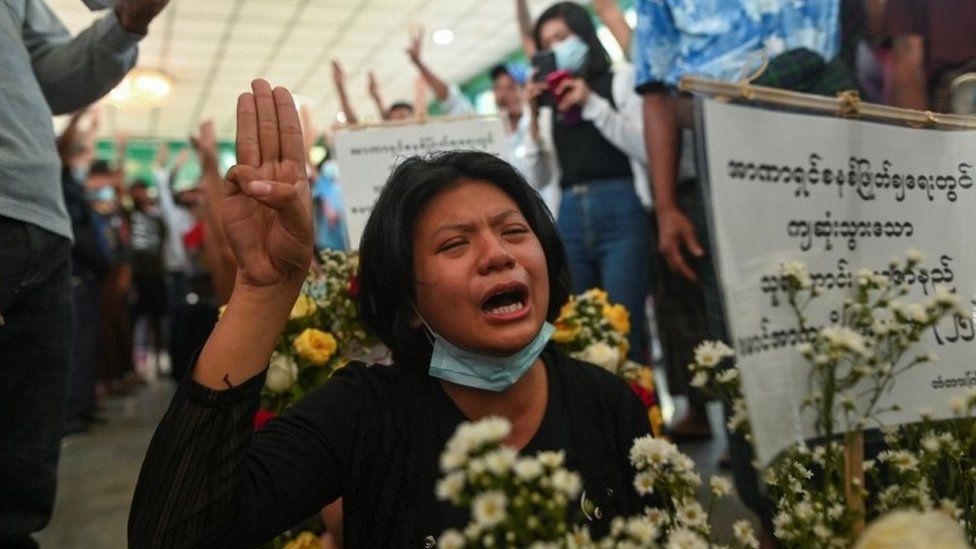 Myanmar has been gripped by mass protests demanding an end to military rule, and at least 55 protesters - many of them young activists - have been killed. BBC Burmese's Nyein Chan Aye has been reporting from the frontlines in Yangon - and this is what he saw.
It's been more than a month since the military coup in Myanmar. People have endured internet blackouts, night-time raids, unlawful arrests, being chased down or beaten up in the streets, being shot at point-blank range, or being targeted by head or chest shots from long range.
Several dozen protesters have been killed in less than a week. A teenage girl, wearing a shirt that read "Everything will be OK", died after being shot in the head.
If you happen to be in a neighbourhood in Yangon in broad daylight these days, the smell of smoke is likely to hit you first more than anything. Small children taste tear gas or smoke bombs in their own homes. And there is not much else mothers can do but curse.
Live rounds, rubber bullets, stun grenades, tear gas, water cannon, smoke bombs. You name it. Myanmar has seen all these already in less than a month.
And yet new waves of protests take place every day.
People have been boiling with rage over the junta's atrocities - but still the protesters are largely peaceful.
Creative forms of defiance - including sarongs
Students, monks, women, civil servants and even some police officers are joining in the movement against the regime. Some police taking part in the civil disobedience movement have been openly speaking out, saying they will no longer serve the military rulers and would rather serve the people.
pg
So far the opposition is organised and determined. You see different kinds of defiance from dawn to dusk.